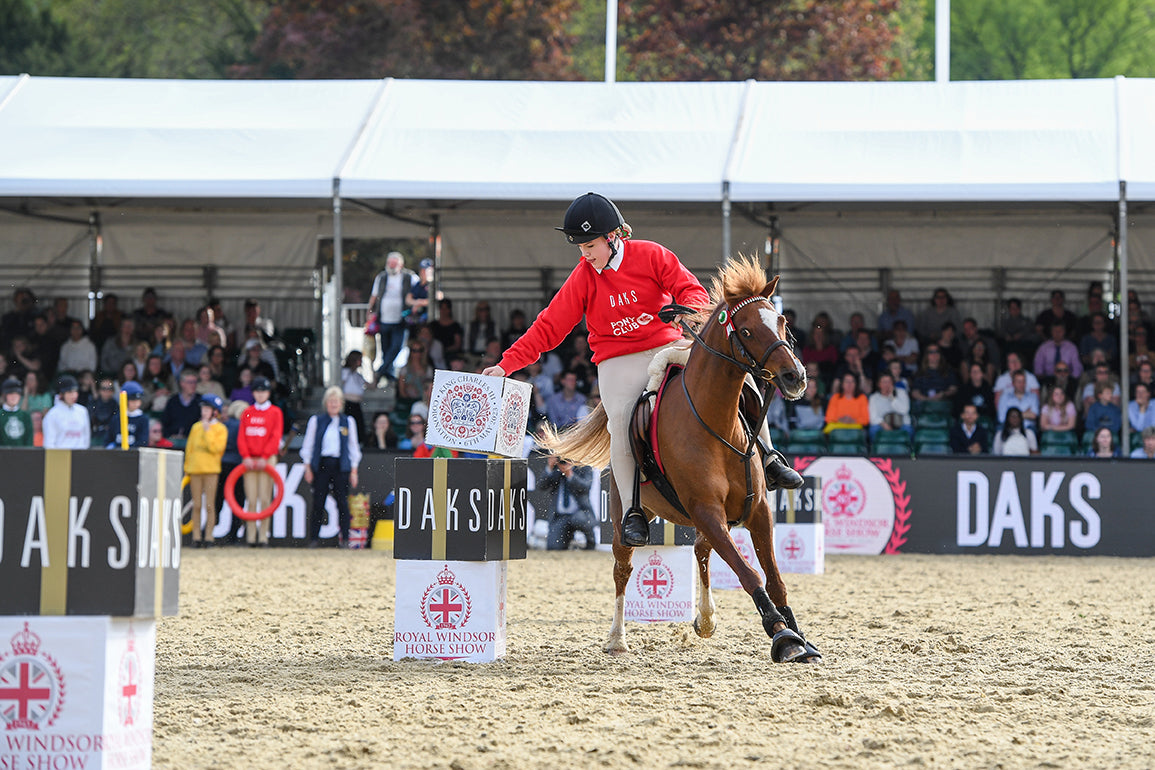 This was the 80th anniversary of the Royal Windsor Horse Show and DAKS' 44th anniversary of sponsorship of the Pony Club Mounted Games at the show.  
The show followed the Coronation weekend of King Charles III and as part of the Mounted Games, a special Coronation game featured where the children had to stack a crown on the top of the DAKS blocks. 
Wednesday 10th May 
Presentation of the DAKS sweatshirts to the children.  The five teams from England, Wales, Scotland, Northern Ireland and The Republic of Ireland were all presented with their DAKS sweatshirts. I gave a short motivational speech to the children ahead of the official start of the show.  The teams then each did song and dance routines to get to know each other as well as presentation of gifts. 
As they are every year, the Pony Club were extremely grateful to DAKS for our long, continued support. The DAKS name was present in the Arena on all the boards, the main digital board, the games and the Pony Club sweatshirts (logo to be updated on these for 2024). The SS24 DAKS advertising campaign was on the back cover of the main official programme, as well as a page of editorial in the magazine. In addition, the new SS23 campaign video played in the main arena. 
The total cost of £35k is a historic sponsorship amount that has existed for a long time and increases slightly with inflation each year. It includes all the branding, the Pony Club tent, the magazine advertising and entertaining in the Royal Box for one day (I took a group of Royal Warrant Holder association this year). All badges and passes for DAKS staff on the Sunday are also included as well as x10 Royal Box tickets for Saturday and Sunday. Many of the main sponsor brands (Rolex, Hermes, Land Rover and Pol Roger) would all like the outside back cover of the magazine but this is also bound into the DAKS contract.  The exposure at the event, in front of the Royal family is money well spent. Next year King Charles and Queen Camilla are said to be attending the event.